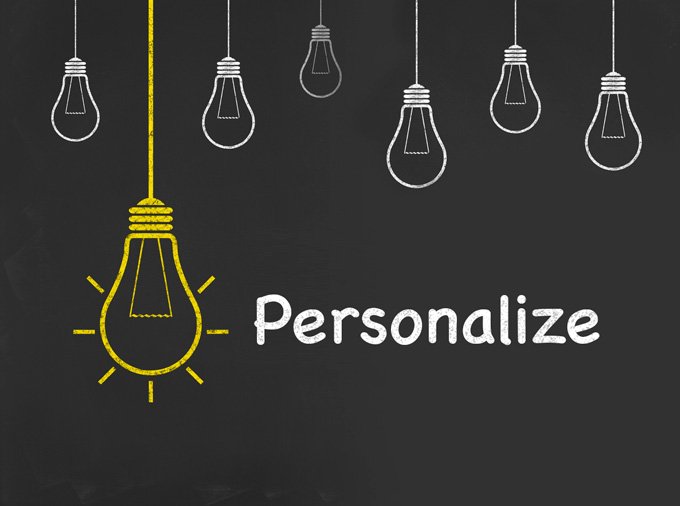 With marketing messages coming from all different angles, consumers are constantly bombarded everywhere they turn. Whether it is targeted social media advertising, email nurtures or pop-up ads on their most visited websites, you must take a unique approach to get your brand to stand out and truly resonant with your audience. It is important to always remember that your customers need and want to feel valued. In fact, in a recent McKinsey & Company study, researchers found that by adding some level of personalization to every marketing initiative, companies are able to reduce acquisition costs by as much as 50%, and in turn boost their revenues by over 15%. So, by getting personal with your customers you're dually able to convey their value to you as customers and get your marketing dollars to go further.
What are the best ways to personalize your brand?
Using names as often as possible. If you're making a customer service call, following up on a past purchase, or simply reaching out to share new promotions, be sure to always use your customers' names. Consumers are savvy enough to know when they are receiving a blanketed marketing message versus one that has been specifically tailored to them. Taking the extra time to craft meaningful messages that can help give your brand a humanistic feel can entice customers to want to continue to buy from you.

Make the most of holidays and big events. Is Christmas approaching, want to say "Happy New Year" with a flare, or simply sending along a "Congratulations", capitalizing on holidays and significant events in your customers' lives can be an effective way to make a connection and keep your brand relevant to them. Plus, receiving a special email or printed card can be an effective way to distinguish your brand as one that cares for and appreciates your customers.
Always remember to say "thank you". Whether you sponsor monthly giveaways, host corporate events, or send your customers "thank you" gifts, finding ways to customize them can be critical in setting your brand apart. When your customers love your brand, they will have no problem referring others to you for business. Dropping a simple, but professionally made "thank you" card in the mail to them helps to bring your brand to life. Investing the money in getting a professionally designed card can go a long way in both clearly conveying your brand and showing your customers that you are willing to go the extra mile to show your gratitude.
So, to make your marketing the most effective, your company must shift from a one-size-fits-all marketing approach and, instead, look for unique ways to customize your customers' experience. Do you have a collection of branded cards? Or, could your marketing materials use a much-needed upgrade, then contact the professional branding designers at Snowball Creative Group. We will partner with you to craft eye-catching cards that will seamlessly portray your brand as THE brand and show your customers that they are truly valued.