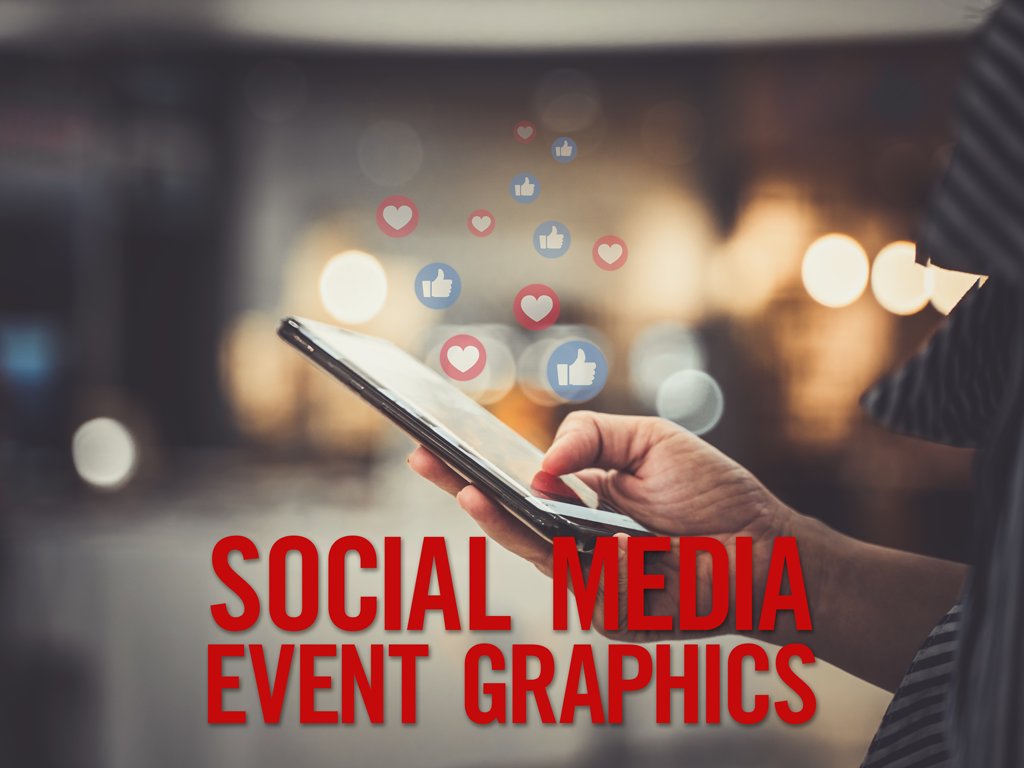 With the growth of social media platforms, especially Instagram, getting your event out there in front of potential attendees is key to drawing the crowds you want. But, with more exposure for your event, comes the importance of making sure your graphics are well-designed. Designing graphics for social media is very different than creating traditional print materials such as flyers or brochures. Since most social media users will be viewing your advertisements or posts on their mobile device, you want to ensure the dimensions and graphic resolution are correct. To launch an effective event marketing campaign on social media, be sure you have these three graphic types.
Cover Banners. On Facebook, you are able to design custom cover banners that can be used to advertise your event. Or, even creating a Facebook page dedicated to your upcoming event can be another way to advertise and brand your event. Either way, partnering with a professional graphic designer can be a great way to create a host of custom graphics for your event. Cover banners can be uploaded at any time, so having several versions designed that leverage specific promotional language such as "Early Bird Special", "Registration Open", or "Last Call to Register" can be helpful to update your graphics as the event approaches.
Post Graphics. To advertise your event, you'll want to post regularly about the event. Depending on the social media platform you use (Twitter vs. Facebook vs. Instagram) you will need to adjust the graphic dimensions to ensure your posts are well-designed and not cut off when viewed. Like with cover banners, your posts' graphics can include promotional language, that can be used to advertise various event milestones, i.e. registration, discounts, etc. Though having varying graphics for your event is ideal, you do want all event graphics to be consistent in their overall design, font styles, colors, and image use.
Sponsored Advertisements. With most social media platforms you are able to "boost" or invest in having your event graphics circulated to millions of users. In this way, your advertisement may be able to reach those who may not know your company, therefore, you want your graphics to send a great first impression. Generally for these types of sponsored posts, you want to leverage appealing and clean images with minimal text. Your goal is for those who see your advertisement to click on it to learn more. The design strategy for a sponsored ad is very different than for a traditional social media post. Therefore, collaborating with an experienced graphic designer is highly recommended to ensure that your ad is both well-designed and incorporates innovative design elements to quickly resonate with your target audience.
Do you have social media graphics for your next event?
Would you benefit from a complementary social media graphic review?
At Snowball Creative Group, we specialize in designing award-winning graphics for small and large events. Send us an email here or give us a call today at 678-408-0338 to schedule a no-strings-attached graphics review consultation. We'd be happy to provide actionable recommendations to take your event's social media graphics to the next level.